Learn to wheelie 100% safe!
At the Wheelie School you can go to learn a wheelie in a 100% safe way.
Our specially prepared motorcycles are equipped with a mechanism that makes it impossible to fall!
With our professional guidance we teach you all steps to the perfect wheelie in 4 hours.
Success guaranteed!
Do you want to learn the wheelie, But are you afraid of crashing? Unfortunately, it often goes wrong when you go out and practice this by yourself, resulting in damage to the motorcycle or physical injury.
At the Wheelie School you learn all the steps of the wheelie in a safe and controlled manner. With our specially prepared motorcycles it is impossible to crash and you can focus 100% on the technique.
The workshops are given by John den Ouden, professional motorcycle stuntrider with more than 15 years experience.
Workshop lasts 4 hours
In the morning from 9:30 am to 13:30 pm
Or in the afternoon from 14:00 pm to 18:00 pm
Maximum 4 participants per workshop
Specially prepared motorcycles from the Wheelie School
The Wheelie School uses Kawasaki Z400's, these motorcycles have a special construction that makes it impossible to fall.
We can adjust this step by step so that you can always go a step further while learning the wheelie.
Furthermore, the motorcycles are fully standard, so you can easily switch to your own motorcycle after the workshop.
The Wheelie School has locations across Belgium.
These are easily accessible and have sufficient parking space.
We are also easily accessible by public transport.
Look at the calendar for a workshop near you.
Our Locations:
Wheelie lessons from 275, - per person
Maximum 4 people per course
Great experience! Very well explained and very friendly !! Tips and tricps where necessary !! Thanks volr today !!!

Dylan De Clercq


July 26th, 2020

you are really at the right place to learn wheeling and everything on 2 wheels !!

Ivan Ivanov


August 29

Wheelieschool.be = the way to go for wheelie training. John knows what he is saying and explains everything really well. A few months ago I took the wheelie course, meanwhile agreed again with John to see the progress and to use the machine a bit more refined. Highly recommended and the safest way to master the wheelie! Can you save a lot of € this way! PS .: John is super experienced and knows his trade! Unbelievable how he is connected to his stunt bike! Thanks again and see you!

Tom Cluze


July 24th, 2020

An awesome experience and well spent Sunday morning. Very safe and at the same time fun way to learn how to wheelie. If you ever had any fear or doubts regarding your abilities for more extreme riding, this is the place to go and feel free to do whatever you like!

Tarik Sulejmanovic


July 14th, 2020

Today I had my first real experience with wheelie school and it was fantastic! Solid material and an expert instructor! highly recommended for every motorcycle enthusiast !!

Menier Nitvanhyr


September 1, 2019

Better safe learning to prevent accidents

Abzik Abdeslam


August 25

Definitely something you should have tried as a motorcyclist! A pleasant guest with a lot of experience in his profession?

Christophe Bruggeman


March 9th 2020

A great experience was a must for everyone

Bart De Keukeleire


October 7, 2019

best sunday afternoon of 2020 so far .... learn to pull nice wheelies for young and old ... you must have done this in your life .... braaaap

Peter Paul de Rycke


March 8th 2020

Learn the tricks of the real wheelie in a very safe way. A friendly cool instructor who will advise and assist you! A big mersion, I learned a lot today and was great fun See you soon ??

Jan Wambeke


October 6, 2019

had a great day today. what a nice course. tough but very educational. relaxed guy who John, no rush and all the time

Ducati Nus


October 13, 2019

Very nice experience, very high-quality material and a fun atmosphere! Definitely worth it and a good basic course for the novice stunter in the making .. big thanks to jhon for the welcome and explanation .. top! Continue like this ??? mvg christophe

Christophe Steurbaut


September 23, 2019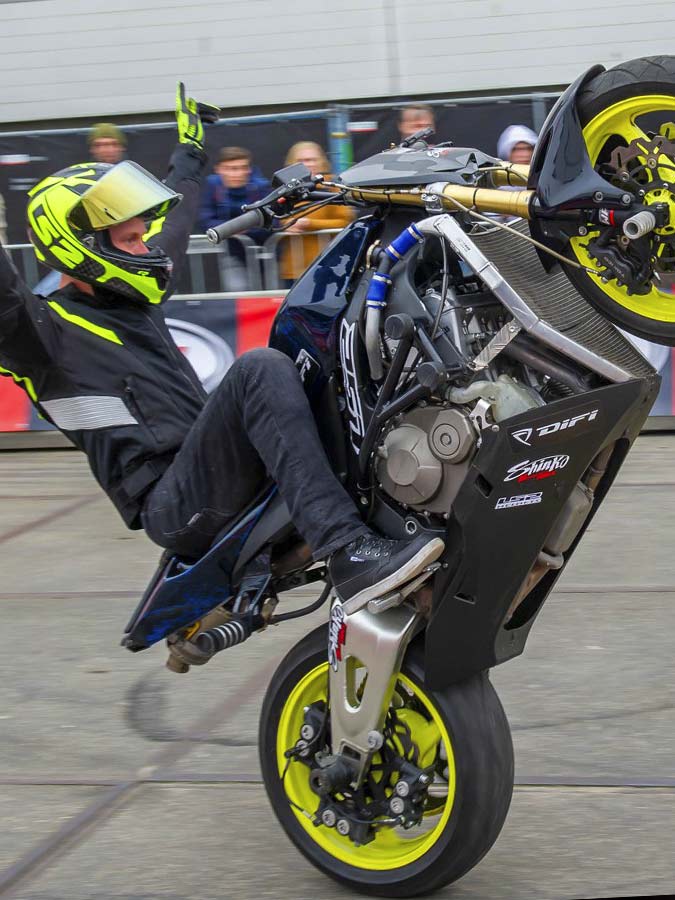 "My name is John den Ouden Aka Johnnie Do
I have been active as a professional motorycle stuntrider for 18 years. Over the years I have already achieved many achievements like Dutch and Belgian stuntriding champion.
The WheelieSchool gives me the opportunity to pass on some of my passion and skills! "
Do you have any questions?
Send us an email via the contact form.
Or you can reach us by phone at
+32 487 35 89 98
info@wheelieschool.be
Learn to wheelie the safe way!