What is the best bike for wheelies?
Not every motorcycle is equally suited to wheelies, so there are a few things to consider.
The most commonly used engines for stunt riding are 600cc sport engines, these have the ideal balance between power and weight. If you really want to focus on stunt riding, then a 3 or 4 cylinder engine is a good choice, especially since these are also very strong at idle speed.
But as a beginner, you can also do perfectly well with a 1 or 2 cylinder, these bikes often have a lot of torque which makes them easy on the rear wheel.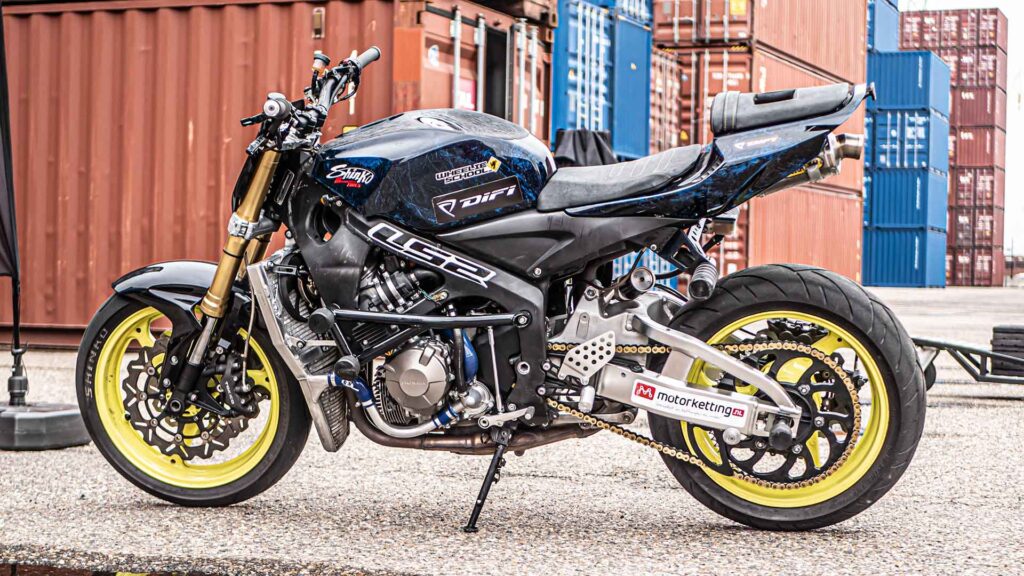 Sitting position
If you have ever taken a wheelie lesson, you know that a comfortable riding position is extremely important for wheelies.
A naked bike, because of its upright riding position, gives the most control when riding on one wheel. On a racer with clip-ons, you sit more forward, putting more weight on the front wheel. As a result, you have to pull the front wheel higher to reach the balance point. The wide handlebars of a naked also give you more confidence when landing the wheelie.
Lubrication
Engine lubrication is also an important issue, as not every bike is designed to do miles of wheelies. The Suzuki SV650, for example, was known to experience engine damage to the front cylinder when ridden a lot on the rear wheel.
If you experience during wheelies that the oil light comes on then you should definitely check this.
For some engines, there are modifications to adjust the oil intake in the crankcase. For most engines, however, this is not necessary for "normal wheelies". However, if you are going for the steep 12 o'clock wheelies then it is advisable to check this out. With my own stunt bikes it is enough to add half a liter of extra engine oil, this way the oil pressure is always maintained. But of course this varies per engine.
Start small?
Want to practice the balance point without too much risk of damage and or injury? Then there are plenty of smaller bikes on the market that you can get away with perfectly.
For example, the Honda MSX 125 "Grom" has a huge fun factor and even in its original condition it lends itself perfectly to wheelies.
There are also a mass of stunt parts for sale for these bikes, such as drop bars and 12 o'clock bars.
So if it goes wrong once, just get back on and try again!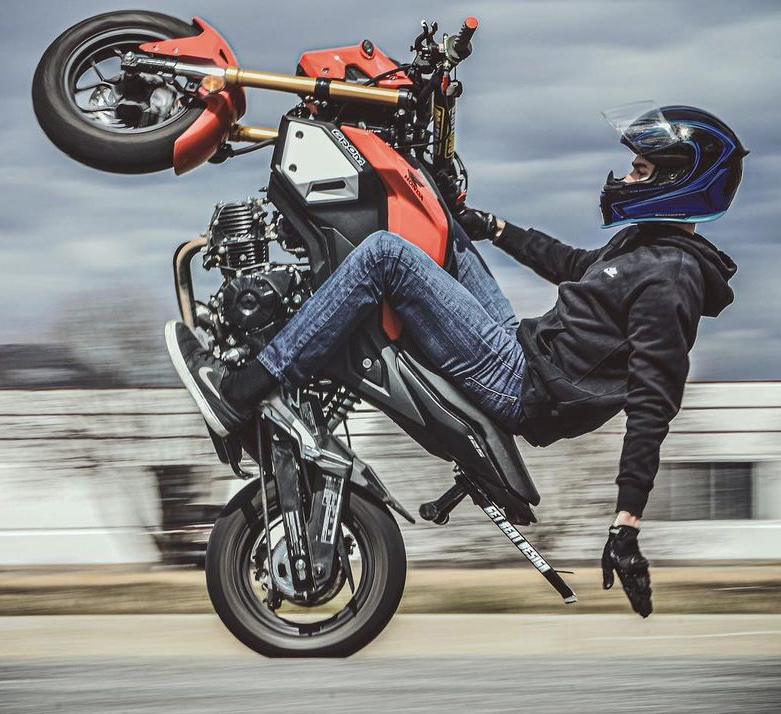 Carburetor or injection?
If you are just starting out with wheelies, a carbureted bike is no problem. But when you really start pushing your limits and doing longer, or especially steeper wheelies, you may run into limitations. Especially in the 12 o'clock position the engine will run out of fuel at some point. You don't have this problem with an injection engine, which keeps running in every position.
Conclusion
Basically, it is possible to ride wheelies on any motorcycle, whether you have a super motard, a naked or a sportbike. Some are just a little easier than others.
Ultimately, you can also modify any motorcycle so that it goes easier on one wheel.
In a future article, we'll go into this in more detail and show you how to build a stunt bike.
Hopefully this article was helpful in your search for the ultimate wheelie bike! Want to go a step further and build a real stunt bike? Then click here.
Do you have any questions or comments? If so, leave it a comment below.
Nice of you to share this with your clients! I'm already looking forward to your next article!

Nice to hear Nicholas, that's what we do it for! 😀

John, nothing but admiration! I am following, cu nxt season!

Thanks Mick!!! Always welcome 😀.