How do you build a stunt bike?
At part 1 I explained the basic modifications for a stunt bike. In Part 2, we will go into more detail about the advanced modifications that allow you to do stunts that are not possible on a standard motorcycle.
Send
During wheelies, seating position is hugely important. Most of the motorcycles discussed in this blog come standard with clip-ons, which means the seating position is hunched over. Therefore, these are often replaced by cross handlebars or stunt clip-ons.
The latter are the easiest solution because they do not require replacing the throttle and clutch cables. These stunt clip-ons are fully adjustable, both in angle and height.
I personally prefer cross handlebars because they are wider than clip-ons and provide a straighter riding position. If you have a bike originally equipped with clip-ons, this does require modification of the crown plate. It may also be that the original throttle and clutch cables are not long enough.
Clutch lever
The clutch lever is only a minor modification, but one that is of great importance. A so-called "easy-pull clutch lever" is not only shorter, it makes the clutch feel about 50% lighter. Not an unnecessary luxury if you pull up a wheelie a few hundred times a day!
An additional advantage is that you can now operate the clutch with 1 finger, this way you have more grip on the handlebars with your other fingers.
It is also very important, especially when riding at elevated idle, that you always keep your finger over the clutch lever. That way you can intervene immediately if something goes wrong, because you don't want your bike to take off without you!
The final reason to install a short clutch lever is so that you can use it in conjunction with a handbrake. You can then operate the clutch and the handbrake at the same time, each with 1 finger.
Handbrake
A hand brake allows you to do stunts that are not possible on a standard motorcycle. As you know, the rear brake is the most important part on the motorcycle for making wheelies. But with only the foot brake, you are somewhat limited, because you always have to make sure your foot is above the brake. A hand brake offers a solution here, because now you also have a rear brake on the handlebars, for example, you can swing your legs over the handlebars and still do controlled wheelies.
There are several ways to mount a handbrake, you can choose an additional rear caliper. Or you can opt for a loop-through system, where the hand brake and foot brake are both on the original caliper. The latter is the cheapest, but there are some drawbacks to it.
When you start doing intense wheelies, the rear brake gets extremely hot. It is therefore an advantage if you have 2 calipers so that the heat is somewhat distributed.
The original rear caliper is usually a 1 piston caliper, sufficient as a foot brake. But since we want to operate the hand brake with 1 finger (middle finger), one with a little more bite force is recommended. Often even 2 calipers are used in series for the hand brake.
To mount a 2nd or 3rd caliper you need an adapter plate called a handbrake bracket. This replaces the original rear brake adapter. There are many options on the market, so you can keep the original foot brake, but you can also replace it with a radial caliper. 
The rear brake disc is also often replaced with a larger one, this increases braking power and also provides better heat distribution.
For optimal brake metering, a radial brake pump is the best choice. These are available in different diameters, a smaller diameter is a little better to dose and a larger diameter gives a little more braking power. The most common sizes used are 13mm and 16mm.
Of course you still need a long brake line from the handlebars to the rear brake, these are usually around 2 meters in length and need to be custom made.
Tip: Are you looking for longer brake lines? Then check out this article with the best motorcycle webshops.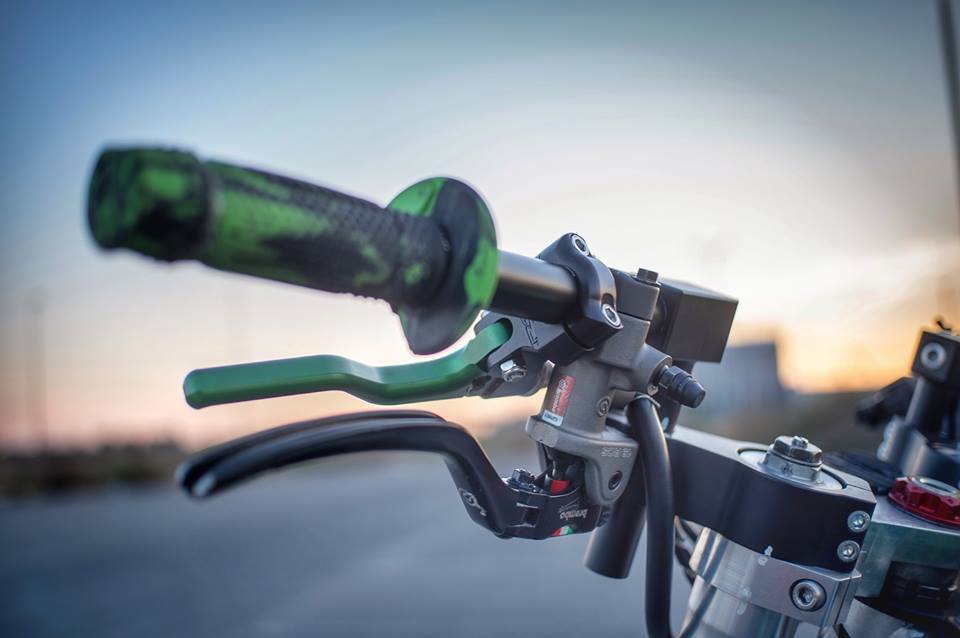 Gas tank
If you want to do wheelies while sitting on the tank, you can modify it for that purpose. Standard gas tanks are usually a little convex so you slip off quickly. You can dent the fuel tank with a rubber mallet, but this is a patient job. Dented too much at once and the tank can crack.
A nicer way is to have a piece welded in, you can then model the tank to your liking. That way you have raised edge and you can sit, stand, etc... better on the tank.
As a finishing touch, you can apply so-called "tank grip" to the tank. This is a self-adhesive foam that you also find on surfboards, for example. This gives you more grip on the tank and keeps you better in place.
Frame
As discussed in Part 1, some models are prone to cracks in the frame, especially around the engine block suspension points. This is because the drop guard is also mounted at these points. These sometimes suffer during falls.
The original frame is made of aluminum, lighter than steel but weaker. Therefore, there are steel replacement frames for the most common stunt bikes. A tubular steel frame is slightly heavier, but many times stronger than the original aluminum one. 
Steel frames are available as a "half frame" where the original frame is cut and only the front part is replaced. Or a "full frame" where the entire frame is replaced.
Also the rear part, the "sub frame" can be replaced with a steel version, definitely recommended if you do a lot of 12 o'clock wheelies.
Full fairing or naked?
Now that you know all the requirements to build the perfect stunt bike, one last question remains... Are you going "full fairing" or "naked"?
Full fairing is with the full fairing, looks cool and most like a standard bike. But may not be the best choice if you are just starting out in stunt riding. The bike is just more likely to hit the ground then, which can lead to broken fairing parts.
Naked or the streetfighter look is better suited then. If you go for full fairing then it is also best to mount a "stunt stay". This is the bracket that attaches the fairing to the frame. Sometimes hard landings during wheelies can cause the original bracket to break off.
Conclusion
After reading both parts of this blog, a stunt bike will have no more secrets for you. Whether you're a beginner or an advanced wheelie master, the tips discussed here will help you take your stunts to a new level!
Hopefully you found this article interesting and it will help you on your way to building the ultimate stunt bike!
Do you have any questions or comments? If so, leave it a comment below.
For which A2 motorcycle (preferably sport bike) can you find the easiest stunt parts, the stunt scene in Belgium is exactly not that big and quickly come across only parts from America.

Day Miro, there are several A2 motos for which stunt parts are available. For example, the Kawasaki Ninja 650, Yamaha MT-07 or the Kawaski ER6N.
Good webshops for parts include Jokeriders in France or Dixer Parts in Poland. Good luck!